Papua is an incredible place and Baliem Valley, as its most popular and accessible destination, is no exception. Also known as Grand Valley, this valley measures around 80 km long and around 20 km wide and holds a population of 100,000 inhabitants.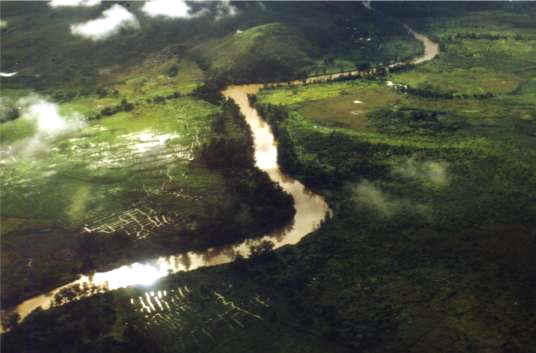 The Baliem Valley was thought to be uninhabited by people until as late as 1938 when it was accidentally discovered by the pilot Richard Archbold. In the midst of an aerial reconnaissance flight, he happened to notice a deep, large valley situated among tall mountains and in that valley, he spotted clearly recognizable fields, an unmistakable mark of human civilization. The Baliem Valley and the Neolithic warriors and farmers who inhabit it – the Dani Tribe – were discovered by pure luck.
The 1950s saw the arrival of Christian missionaries into the Baliem Valley as well as the establishment of a Dutch government post. Beginning in the 1960s, Indonesia has also added its own brand of colonialism by bringing immigrants, government schools, police, soldiers, shops, cars, and bicycle rickshaws to the valley. These changes have all impacted Dani life, but their identity and culture have proved steadfastly resilient.
Nowadays, travelers from around the world make their way to Papua in order to explore the rich interior of the eastern-most region of Indonesia and experience one of the world's last fascinatingly traditional tribal cultures of Dani Tribe, as well as the Lani and Yali Tribes.
Wamena is the main city of the Baliem Valley and is home to around 10,000 inhabitants who form a mix of Papuans, Dani, Yali, Lani, and other local tribes. Wamena is also the starting point for most tours and treks into the Lani, Dani, Yali, and Asmat tribal lands, as well as. These tours and treks range from local half-day walks to 30-day expeditions deep into tribal lands.
Click here to learn more about the Tribes of West Papua.
Best Time to Visit the Baliem Valley
As a rule, the further east you go in Indonesia, the drier it gets. As Papua is located as east as it goes in Indonesia, it is pretty dry here. This is good news since it makes traveling to the Baliem Valley feasible all year round. There is a rainy season but it is fine to travel during that time, although temperature might be a bit colder.
Overall, the climate here is pretty stable, ranging between 20 to 30C in the days and 10 to 15C at night.
But the best times to visit are probably between March and September, with August being the best month if you want to witness the famous Baliem Valley Festival that is held annually in Wamena. The various tribes living around the Baliem Valley area send groups to represent their traditions, dances and cultures and you'll have the perfect opportunity to experience the richness of the tribal cultures of Papua. Not to mention, it's a prime time to sample some delicious earth cooking.
How to Get to the Baliem Valley
Baliem Valley is located at the heart of Papua, Indonesia: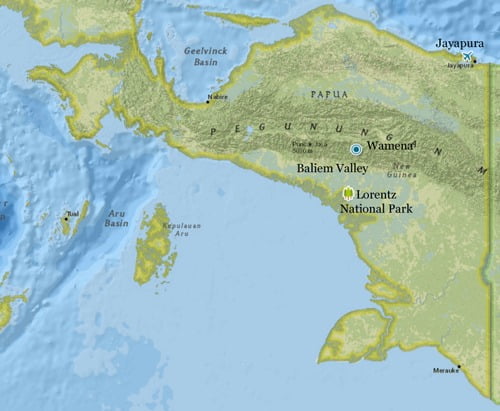 The only way to get to the main city of Wamena in Baliem Valley is to fly in from Jayapura.
The only way to get to Wamena is flying from Jayapura (about a 40-minute flight). That also means that EVERYTHING must be flown in, and local prices generally reflect this. As of March 2013, the only airline flying the Jayapura to Wamena route is TriganaAir. They don't offer an online booking service, but you can purchase tickets by contacting their customer service or if you prefer to book online, you can make an online booking through Nusatrip.com.
Getting to Jayapura is relatively easy and you can book with:
Lion Air
Garuda Indonesia
Sriwijaya Air
How to Get Around the Baliem Valley
Getting around Baliem Valley is not so easy. There is public transportation is the town of Wamena but it mostly consists of the airport and minivans taxis that run along set routes. If you wanted to go somewhere not on the route, you can hire a bicycle rickshaw but the roads are not well-paved and there is a limit to where you can go on a bicycle.
Another option is to hire a vehicle (with driver) which will typically be a small SUV or a mid-size 4×4 pickup truck. Even with these vehicles, however, it'll be difficult to get to places that have no bridges connecting them.
The best way to commute outside of the proximity of Wamena is by walking or flying.
Things to See and Do in the Baliem Valley
The most popular activity in the Baliem Valley is to trek along tribal villages and experience the lifestyle of the Dani, Lani, Yali, and Asmat tribal cultures. These tours and treks can last anywhere from half a day to a month.
But if you decide to stay in the Baliem Valley, around the town of Wamena before or after your trekking, there's still plenty to see around here…
Shop the Local Markets
There are three major markets in Wamena and they are fascinating to explore. You'll find everything from the usual marketplace fare – fresh produce and fruits – as well as an abundance of anything and everything that can be sold – clothing, canned goods, car parts, farming goods, electronics, and more.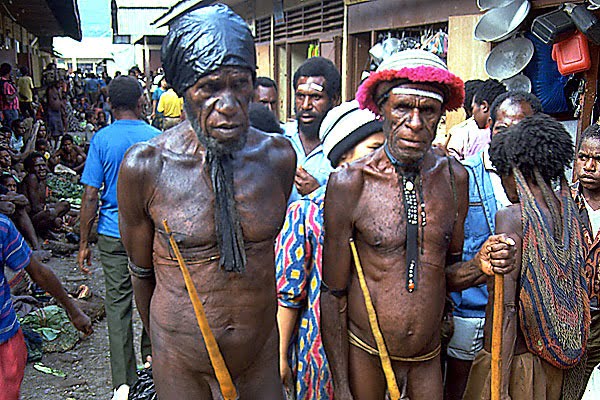 You can also peruse local shops on the major streets – they sell locally-produced art, masks, costumes and various other touristy treasures you might want to scoop up before you head home.
Mummy Visits
When else are you going to get the chance to see a 400-year-old mummy?
Around 12 miles south of the main town, you'll find a village located 200 years off the main road where you can visit with the centuries-old mummy.
Look Around Town
That might not sound like such a wonderful, but when the town is as different as Wamena is – it's worth your while. You'll come across traditional grass huts near the outer suburbs mixing among newer structures with metal roofs.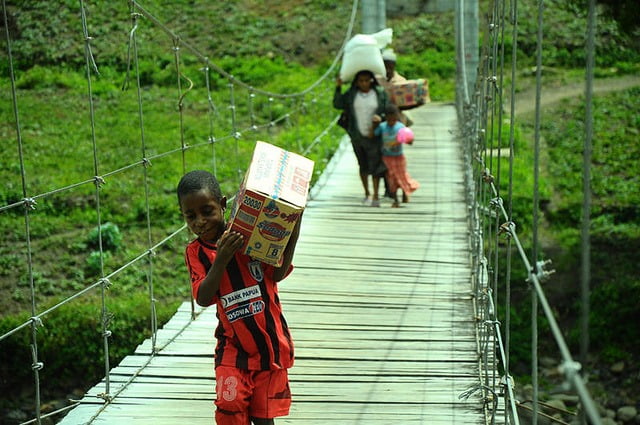 On the bridge across the Baliem River, you can people watch for a while. You'll see locals washing clothes, swimming, fishing, and even digging out gravel. You might even spot some Dani and Yali tribespeople on their way to town to buy or sell in the markets nearby the bridge.
What to Eat in the Baliem Valley
You'll find a variety of food in Baliem Valley from street vendors selling delicious soups, local versions of sandwiches, and even imported ice cream to upper-end restaurants offering broad selections of Indonesian, local and even international dishes. Keep in mind that local diners mostly offer local dishes.
Baliem Valley Travel Tips
Baliem Valley is a fascinating place to explore, but keep in mind that this really is off the beaten path. It is one of the last real adventures of earth and that means you're going to be without a lot of the things most of us take for granted. Please keep these travel tips in mind before you visit and prepare accordingly:
Baliem Travel Tip #1
Even in the main town of Wamena, most shops do not have outdoor lights and there are NO street lights. It gets very dark, very fast after sunset so make sure you plan your trip around town so you can be back at your hotel before sunset.
Baliem Travel Tip #2
It's a very good idea to bring an LED headlamp (or two). In fact, it's generally a wise idea to bring everything you really need while you're here: sunscreen, insect repellant, flashlights, a backpacker's water filter and other basics. Everything – absolutely everything – that is not made here must be flown in from Jayapura and the local prices reflect this.
Baliem Travel Tip #3
There are no signs, no maps, and pretty much no facilities intended for travelers. If you are an experienced trekker, you might be able to trek on your own for a day or two, but we highly recommend hiring a tour guide/trek guide when you're here.
Baliem Travel Tip #4
Wamena city water is NOT safe to drink unless boiled and filtered. If you're trekking, remember to bring a backpacker's water filter or something to boil the water you find in the natural springs that dot the countryside.
Baliem Travel Tip #5.
Alcohol is illegal and NOT available anywhere in the Baliem Valley.
Baliem Travel Tip #6.
If you see children – note that they love having their photos taken. Just make sure you show it to them afterwards 🙂
Baliem Travel Tip #7
There have been tensions between the Dani and the security forces and the Indonesian immigrants which have periodically erupted into violence (in 1977 and in 2000). Whereas travel in the Baliem Valley is usually safe, please keep this in mind and be aware of the security warnings issued by your country.
Baliem Travel Tip #8
As always – never be without travel insurance.
Thanks for visiting our site Voyager – indonesiad.com and taking the time to read our post!
We'd love if you'd comment and share this post.
If you find the website helpful we would appreciate if you support us by clicking on the related Ads that Google provides you around the pages.