Flores island Indonesia
The beautiful Flores Island in Indonesia gets its name from the Portuguese word for 'flower' and the island more than lives up to its name.
Just an hour's flight from the internationally-acclaimed Bali, Flores is an island still shrouded in relative obscurity. It's a wonder why – this beautiful island is a truly fascinating destination with a wealth of sights to see and wonders to explore. Here you can swim in pristine lakes and waterfalls, dive at any of the 50 spectacular dive sites, explore mysterious caves, and go kayaking among craggy coasts and mangrove shores.
As for beaches, you'll be spoiled for choice. Flores is home to black, white, and even pink sand beaches. Tired of sand? There are blue pebble beaches here, too.
As for the backdrop, you'll have your choice of wide open horizons, beaches with a majestic mountainous backdrop, or beaches surrounded by lush jungles. The best part? Most of these beaches are untouched and pristine with crystal clear waters lapping at the shores.
The island is also one of the only places on earth – outside of Komodo Island – where you can see Komodo dragons in the wild. In fact, the west coast of Flores is part of Komodo National Park, a UNESCO World Heritage Site.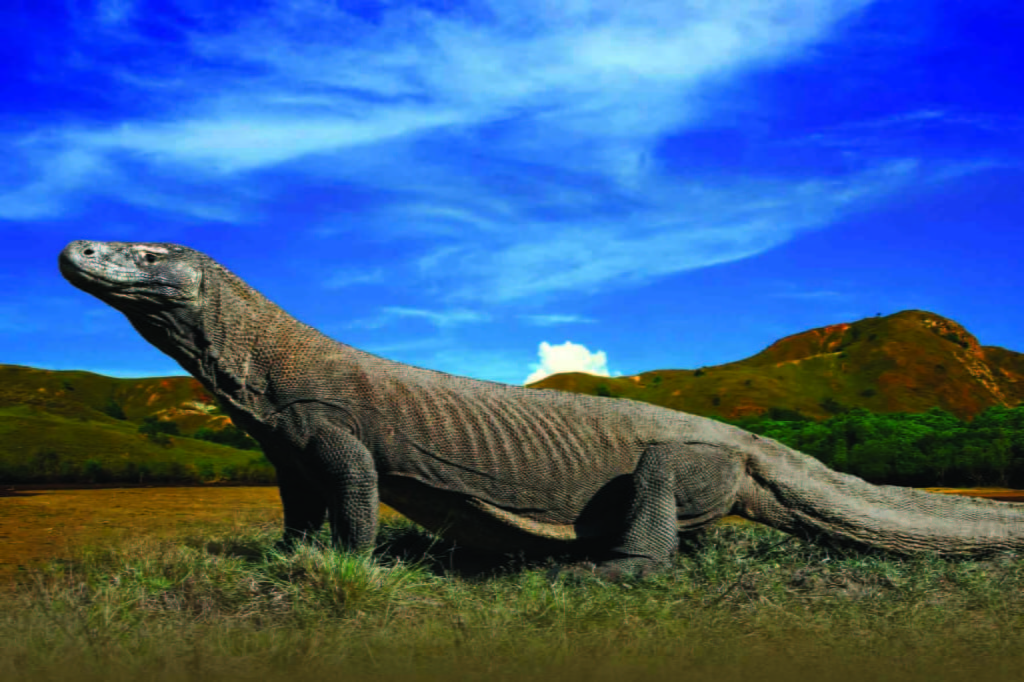 There's no doubt about it – Flores has a lot to offer.  But our absolute favorite thing about Flores Island is the unique charm of its many treasures. From the mysterious tri-colored lakes of Mt. Kelimutu to the intricate spider web rice fields, the island boasts an almost other-worldly appeal that must be experienced to be understood.
Yes, we know Indonesia is huge. Yes, it has over 17,000 islands. You probably can't see them all, but if you crave beauty and adventure with a dose of wonder – put Flores at the top of your list.
Flores Indonesia Information
Situated in the province of East Nusa Tenggara, Flores is a long island with a fascinating terrain, diverse flora and fauna, and a diverse population of nearly 2 million inhabitants. The island is located in the volcanic zone that extends from Sumatra across Java and Bali to the Banda Sea and Flores is currently home to 14 active volcanoes. A chain of volcanoes – mostly inactive – stretch the entire length of this 450km-long island, creating an intimidating terrain of complicated V-shaped valleys and knife-sharp ridges that made this area near impenetrable until recently.
The heavily fragmented terrain of Flores contributed to the separation of the island into many distinct ethnic groups as well as the underdevelopment of the tourist industry, although the latter is fast changing.
Thanks to the diversity of the island's inhabitants, you'll find many languages spoken around Flores. At least six separate languages are identifiable in central Flores alone.
What unites the majority of the Flores people is their religion – the island's inhabitants are almost entirely Roman Catholic Christians, which is a rarity in a mostly Muslim country. The prominence of Catholicism on the island can be attributed to its colonization by Portugal in the 16th century. Although several centuries ago, the Portuguese influence on Flores was big and the island's annual Holy Week festivals are now a major tourist attraction.
Speaking of tourist attractions, the beautiful island of Flores is quickly becoming Indonesia's "next big thing," thanks to much-improved infrastructure on the island. A 750-km highway now runs the length of Flores from Labuhanbajo in the west to Larantuka in the east. As long as you don't travel during the rainy season with its risk of landslides and blocked roads, you'll be able to tour the island's fascinating landscape punctuated by volcanic cones, coastal waters fringed with nature reserves and a marine park, as well as its diverse cultures with ancient traditional that have survived throughout centuries.
Best Time to Visit Flores Indonesia
Indonesia has two distinct seasons: a dry season and a wet season. Being a huge country, a good rule of thumb while traveling in Indonesia is that the more east you go, the longer the dry season tends to be.
This is good news for travelers to Flores since it's at the most easterly end of Indonesia and has a long dry season that stretches from April to November. The wet season typically runs from December to March.
The extent of rainfall during the wet season differs depending on which region of Flores you'll be visiting. The northern parts of Flores – especially the northeastern region – is the driest with very little rainfall. There's sometimes no rainy season in the northern regions and travel here is okay year-round. On the other hand, western Flores can get very heavy rains so it's best to avoid that area during the wet season.
How to Get to Flores island
Flores is home to several airports, but its main airport – Fransiskus Xaverius Seda Airport – is located at Maumere. There are daily flights to and from Bali, Lombok, Timor here.
How to Get Around Flores
Flores has a public transportation option in the form of bemos, which are small vans with seats that face each other. It's not the most comfortable ride – no air conditioner, open windows on dusty rows, and chickens being allowed along with paying passengers.
That being said, it is a really fun way to travel around the island of Flores and it'll get you to all the main towns.
Things to See in Flores
There is an endless array of things to see and do in Flores from natural wonders to cultural treasures. Here, we've listed the absolute must-see and must-do things while in Flores:
Tri-Colored Lakes at Mt. Kelimutu
The most famous tourist attraction in Flores is Mt. Kelimutu, a volcano containing three differently-colored lakes. These crater lakes are in the caldera of a volcano and fed by a volcanic gas source, resulting in highly acidic water.
Depending on the oxidation state of the lake, the waters of the lakes change color on an irregular, almost whimsical, basis and can range from bright red through green and blue.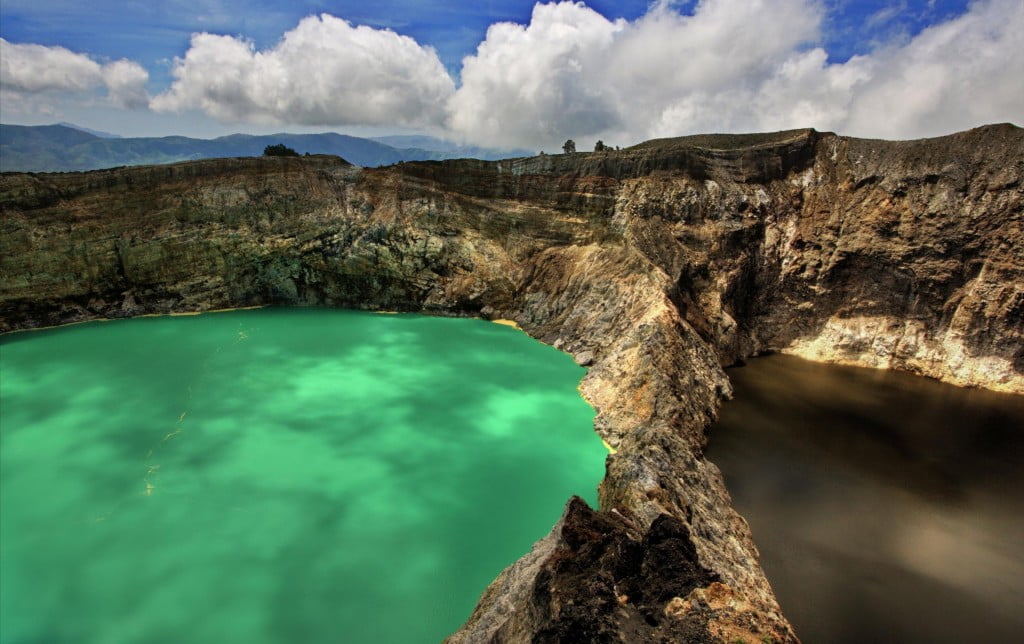 Learn more about the beautiful tri-colored lakes at Mt. Kelimutu.
Spider Web Rice Fields
Head toward Ruteng, a pleasantly cool town located up in the western hills. Around 17km west of Ruteng lies an even smaller town named Cancar – you'll have the most amazing view over spectacularly intricate spider web rice fields from the Cara Villa in Cancar.
Experience Traditional Flores Culture
Head over to Bajawa, a city in the centeral Ngada region of Flores, to experience traditional Flores culture. More than any other area of Flores, the Ngada region has retained its traditions and rituals despite the influence of Catholicism.
In the town of Bajawa, you'll be greeted with cool mountain air and the sight of traditional villages. All the villages have ngadhu shrines with carved tree-trunk bases and bhaga (miniature houses) in the village center.
The ngadhu and bhaga symbolize male and female tribal ancestors, respectively, who are thought to live in the shrines. Slightly south from Bajawa, the town of Bena is home to interesting megalithic stones as well as the host of the wekk-long Reba festival (late December) during which the local people dance around the village in traditional ikats and sing to reconcile humans and nature.
See Komodo Dragons in the Wild
The west coast of Flores is one of the few places – other than Komodo island – where you can see Komodo dragons in the wild. It's a part of Komodo National Park, a UNESCO World Heritage Site.
Apart from the Komodo dragons – you'll also find numerous bird species at the Komodo National Park, including sunbirds, egrets, quail, and exotic mound-building megapodes. There's also an array of other land animals, including horses, wild pigs, flying foxes, and a variety of snakes.
In the waters of the park, there live diverse and abundant marine life, including turtles, giant clams, dolphins, and even whale sharks.
Things to Do in Flores Indonesia
Snorkel and Dive
The waters of the Komodo National Park offers some of the best diving in the world. You'll find a rich variety of cetaceans, including whale sharks, marlin, tuna, whales and dolphins. There is also an abundance of colorful corals and reefs as well as a variety of giant clams, turtles, and fish.
The town of Labuan Bajo lies on the western tip of Flores and makes an ideal jump-off point to explore the waters of the Komodo National Park.
Further into the island, off the north-central part of Flores, are the beautiful coral gardens of the Riung 17 Islands. This area is actually a national conservation area and marine park that consists of more than 20 islands. This area is fantastic for diving as it encompasses a rich coral reef ecosystem with almost 30 different species of coral and plenty of exciting underwater animals including dolphins and whales.
A little further east into the island of Flores, there is another spectacular dive and snorkel spot at Maumere. In fact, there are around 40 wonderful dive spots in the marine gardens in the Bay of Maumere to be explored.
Flores Travel Tips
Flores has reported cases of Malaria. Take Malaria prevention pills and make sure to bring mosquito repellant with you and protect yourself from mosquito bites during your stay in Flores. Take extra caution by wearing long sleeves when in the lowland areas.
And as always – never travel without travel insurance.
Thanks for visiting our site Voyager – indonesiad.com and taking the time to read our post!
We'd love if you'd comment and share this post about Flores Indonesia.
If you find the website helpful we would appreciate if you support us by clicking on the related Ads that Google provides you around the pages.